Hanson on the 'morbid' reality of their catchy hit MMMBop
– #Hanson #morbid #reality #catchy #hit #MMMBop
Isaac, Taylor and Zac Hanson consider it a "huge honour" that they're still touring and making records 30 years after deciding to form a band as young children.
Their continued success is testament to their talent and strong family bonds – and hugely dedicated fan base around the world.
Now adults – they are 42, 39 and 37 – the brothers have been in Australia performing to sell-out crowds with their newest album, Red Green Blue.
READ MORE: Prince Harry, Prince Andrew 'snubbed' by King in new family shakeup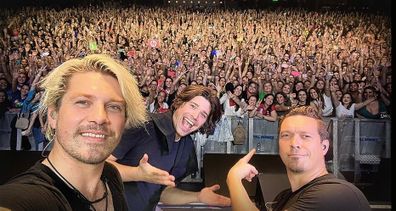 "For us we have our story, many albums, many tours, but we see people in their lives," Taylor tells 9Honey during a sit-down interview in Sydney mid-way through the tour.
He calls the relationship between them and their audiences, whether it be younger crowds only now discovering their music, or long-time fans who are reconnecting with the band, as "amazing… it is a two-way street".
"This is what is so awesome about music, it reaches people. It's a huge honour."
They were last in Australia in 2019 and are enjoying being back after the pandemic brought the world to a halt.
"We're all kind of making up for lost time after COVID," Taylor says.
Zac adds: "It makes it feel particularly special right now."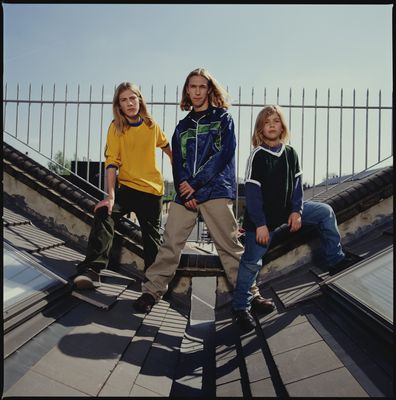 Hanson are rare in the music business for their longevity, having survived finding unprecedented fame as children to come out on the other side as adult musicians still doing what they love.
For those who may only remember Hanson for their megahit MMMBopreleased in 1997, they've had an incredibly busy three decades since.
They founded the band in 1992 at ages 11, nine and six and their major label debut, Middle Of Nowhereearned the brothers three Grammy nominations and five consecutive top 40 singles, including Where's The Love, I Will Come To You and Weird.
The first single off that album was MMMBop and introduced them to people all over the world and went to number one in 27 countries.
Since then, Hanson has released six more studio albums, two Christmas albums and five live projects, selling 16 million albums all while touring and raising families.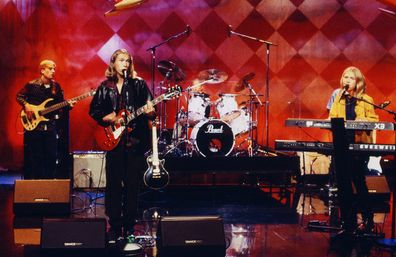 Between the three brothers, they have 15 children. Isaac is a father of three, Taylor has seven children and Zac has five.
"Trying to keep everybody happy is the first thing you need to let go of when balancing lots of children and family and business," Taylor says.
"You do what you can control and with us, obviously touring and travelling is something that we know well.
"And with your relationships, you kind of have to have some understanding [saying] 'OK, it's about to get weird, I'm going to be gone for a while, buckle in'."
Isaac, laughing, says: "I think there's a little bit of a misnomer or a delusion that there is balance.
"I don't think there is such a thing. I think what you have to do is treat every moment like it's valuable. And if you treat every moment like it's valuable then you'll react appropriately to the circumstances."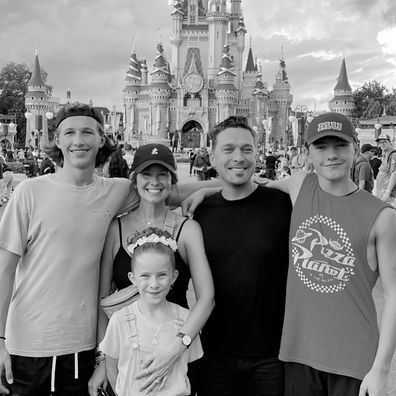 Referring to their large family and becoming a dad, he adds: "In a lot of ways, I don't think you're ever really ready for that. Even if you think you're prepared [puts on serious voice] 'We're ready to have children' it's going to be different than you expected."
Zac adds, laughing, "That kid's going to get really screwed up".
But Isaac, being the older and wiser brother, says it's about choosing your priorities.
"I think you have to chase, in some sense, the best version of yourself and not be afraid of things.
"And if you're not afraid of things, you're not afraid of being invested in both your family and your career, if you're not afraid of the challenges that will come from that then you will live your life as fully as you possibly can and I think that is what actually creates the balance is being like 'you know what, I am here 100 per cent right now'."
"Look, we love each other at the end of the day. It's not an easy job to do this for a long time."
It's clear the brothers are not only close but they are genuinely friends, and it's this unity that has kept them going when other bands have long parted ways.
"We all contribute in our own ways to both the glue and the content and all that kind of stuff," Isaac says.
"Look, we love each other at the end of the day. It's not an easy job to do this for a long time."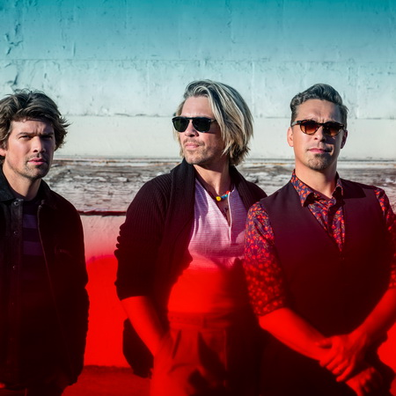 Zac adds: "It's really important to know who you are and know what you need."
Part of that, he says, is giving his brothers what they need too.
"And that's part of what the Red Green Blue album is about: conscious space making and not by accident, not by habit but 'Hey, I'm going to make space right now' and say 'Taylor, what do you want to do?' and whatever that is, that's what we're doing.
"It's not about what I want and I think that's really important for people to do in all kinds of relationships but particularly as a band where you're growing creatively.
"I'm not the same person I was when we started this band – I was six – or when I was 18 or when I was 25. Or even when I was 30.
"Your development changes both your abilities and your aspirations and you really have to make time for that."
Red Green Blue is their new album and is a departure from what Hanson has done in the past, but what remains are their signature harmonies and unique talents. They all sing, write, and play multiple instruments both on the album and on stage.
Using colours to reflect the unique creative voice of each brother – Taylor's Red, Isaac's Green and Zac's Blue – each has written and produced five songs to create three mini-albums in one.
After 30 years, is this a way of going solo without breaking up?
"You could look at it that way… but that wasn't really the inspiration for it," Zac laughs.
"We've been a band for 30 years and to continue to develop yourself as an artist you have to continue to challenge yourself.
"It's not about separating much separating as it is highlighting.
"As artists there are probably things that we all want to do that are separate but it's not really about tearing down Hanson, it's about letting fans go inside the process, what makes Hanson what we are."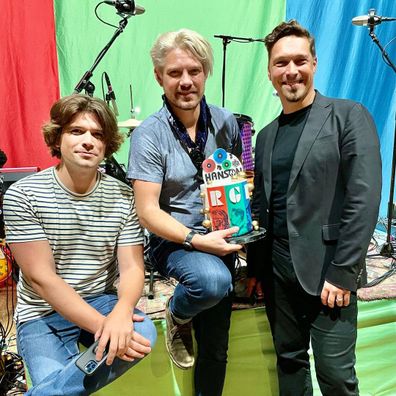 Isaac adds: "And doing things that allows people to rediscover your band because like you said, we've been doing this for a while, you need new ways for people, both fans and non-fans alike, to find interesting new things about who you are and what you're doing."
Hanson has never been a band to ignore their fans. They love playing their hits and know so many of their audiences come for the nostalgia.
But they make a big effort to mix things up for each show, making it fresh for fans but also for them after 30 years of performing.
Taylor says: "For one, we don't do the same show, yes there's a structure and there's certain songs you play but every night we look at the set, you see how you're feeling, you think about the city you're in and you go, 'you know actually, I've never played that before' or 'let's move that around' so every performance is its own piece of art.
"You're performing these songs for the audience that night and I think that's one of the ways that live music is really unique. It's not like any other thing, you are in the room with the person and with the fans and that city."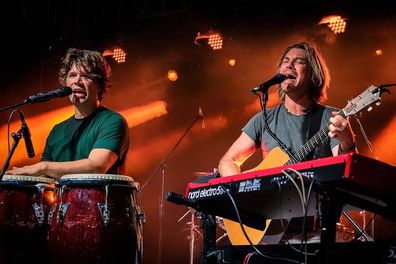 Isaac adds: "And we proactively have built that culture, that's been a very intentional thing we have done.
"The thing that you're doing for them that night is important and valuable to you, you're not just going through the motions."
For anyone who's been to a Hanson show, having fun while singing along to the hits is a huge part of the experience.
But Taylor says the relationship with fans runs much deeper.
"Absolutely, we're always optimistic in our tone, the band has always tried to find the silver lining but it's not just happiness, it's more sort of camaraderie, purpose and excitement – "
"And optimism," Zac interrupts.
Taylor continues: "I think the feeling of having a really joyous energy is to talk about the challenges, to sing about the sad stuff, to sing about the pain and then to say, 'You know what, we're going to push through it'.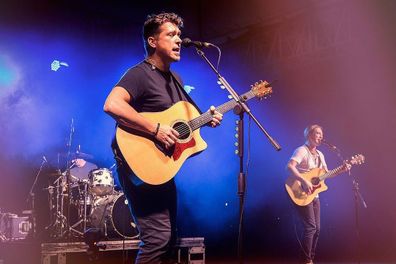 "That I think is a renewable source of energy for all of us because the minute you say out loud to a whole group of people 'Hey we're all a little bit strange, we're all striving, we're all struggling, but we're going to make it' – that's something that I think everybody needs to hear."
Isaac uses MMMBop as a perfect example.
"That has been in the DNA of the band since the beginning: songs like Weirdsongs like MMMBop [sings] 'You have so many relationships in this life, only one or two will last'. Boy, that's a pretty morbid first line."
Taylor, laughing, adds: "By the way, you've got a lot of friends, most of them don't care!"
"Lots of people will leave you!" Zac says.
"In other news, Hanson is really morbid," Taylor adds.
With Christmas already on so many people's minds, I ask Hanson if they'll ever perform songs from their two Christmas albums Snowed In and Finally It's Christmas [released 20 years apart] to Australian audiences.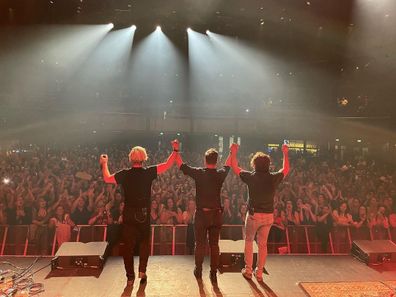 "I think we should, it would be really fun," Isaac says. "We've never done it."
Zac says: "It would be wild playing Christmas songs in the middle of the summer."
"For us, we're picturing snow," Taylor laughs.
"We need to write a beach song, a summer Christmas song," Isaac suggests.
Zac asks: "How do Australians listen to Christmas music?"
"A sandman instead of a snowman?" Taylor offers.
Zac is convinced.
"Sounds like we would fit right in, let's make it happen," he says.
Red Green Blue by Hanson is out now. Limited tickets are available for their remaining shows in Melbourne and Auckland. Details here
For a daily dose of 9Honey, subscribe to our newsletter here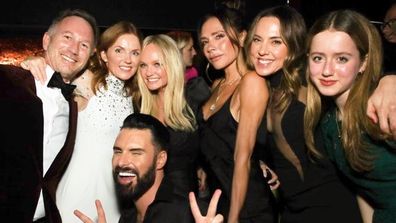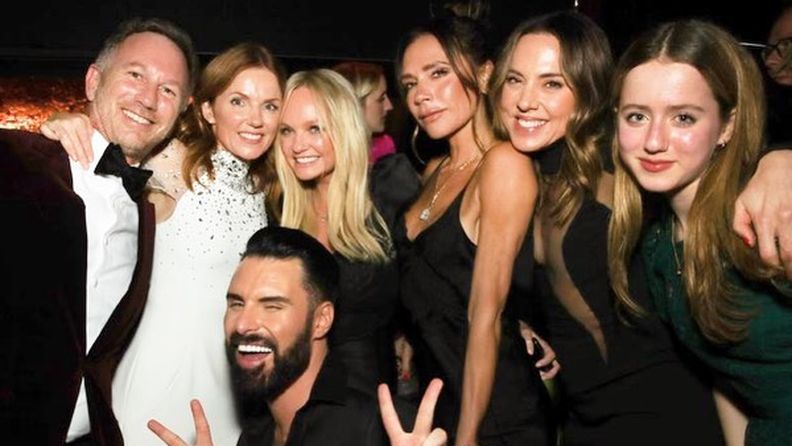 Spice Girls reunite at Geri Horner's 50th birthday
Stay Connected with Viral35.com For more updates. Thank You For Visiting
Watch Latest Full Videos Here
Join Our Telegram Channel For Latest Videos
https://t.me/trends72com